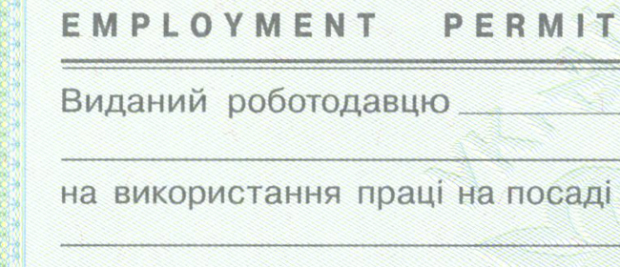 Work permit in Ukraine, requires any Citizens not Ukrainian, include the European Economic Area and Switzerland need a working permit for Ukraine…
– Students from other countries who have a residence permit for study in Ukraine can apply for a work permit at the Police and Border Guard Board. You need written confirmation from the education institution at which you are studying.
– The maximum period of validity for a student work permit is the period of validity of the residence permit.
– Processing applications takes about 1-2 months.
More information:
– Ukrainians work 40 hours per week
– The working day is usually 08.00-17.00 or 09.00-18.00
How to find a job in Ukraine?
In Ukraine it is usual to send an e-mail a potential employer, phone calls may work but are not normally preferred. You should send a CV, and a motivation letter is often requested. Be ready for an interview. Most students work and study at the same time. Having a part-time job is very common.
Places where you can look for job vacancies:- Career centres and info desks in universities- Websites- Friends, classmates and local students- Direct contact with someone from the company, which can be made from the company's websiteHow much will they pay me?- average monthly salary: 800 USD$ per month (first quarter of 2010) for a full time work- minimum salary: 278 EUR
Processing the application takes about a month. Additional information concerning work permits can be found from the Citizenship and Migration Bureau.
Ukraine Work Permit and Visa…
Foreign employees need a work permit in Ukraine. This rule is also applicable for employees from the CIS, except for the ones from Belarus. The application process for a work permit for Ukraine includes several steps and has to be planned in detail.
Depending on the purpose for which a foreign manager travels, he needs a special visa. For example, there is a differentiation between a working visa and a business visa. The business visa does not allow official employment, but is restricted to business trips. Business visa may be issued with a validity of one year, but only allow 90 days of stay in the country within every period of 180 days, which means a maximum of 180 days within the whole year.
We would be delighted to advice you on the process and to take it over for you.
Do you have questions regarding work permits and visa for Ukraine? Simply, drop us an email.
How to obtain work permit in Ukraine?
There is no special regime for foreign nationals working in Ukraine, although there is a general requirement for work permits. Note: Such work permits legalize foreigners' work activities and also gives them the full right to reside in Ukraine year-round by obtaining the work visa, or IM-1 visa. According to visa regulations, only holders of immigration visas and student visas are entitled to be in Ukraine year-round. Other categories of visas allow to stay in Ukraine for just 6 months out of each calendar year. The IM-1 visa, is one of the few types granting the right to year-round residency. Ukrainian employers (all resident legal entities) must obtain work permits for foreign nationals who are either directly employed by them or seconded to Ukraine by foreign companies. According to the Resolution of the Cabinet of Ministers of Ukraine No. 322 "On Approval of the Procedure of the Issuance, Extension and Annulment of Work Permits for Foreign Citizens and Stateless Persons" from April 8, 2009 Ukrainian employers may obtain work permits for foreigners only if:
there is an absence of Ukrainian citizens capable of performing the required work or
there are substantiated grounds for the necessity to hire a foreigner.
In practice, a company has to report a vacancy to the Employment Center for the specific position to be occupied by a foreigner at least 1 to 2 months before submitting the application for the work permit. It should be noted that the Ukrainian legislation does not provide a definition of the term "significant grounds". Nevertheless, a document outlining such grounds should be filled, together with other required documents, with the relevant Employment Center. Presumably, the education and expertise of the foreign national in the relevant area will be taken into account in evaluating whether to issue a work permit to such foreign national employee. It is important to know that work permit is issued for a maximum term of one year and can be renewed for a similar term. Intra-company cessionaries (i.e. foreign nationals assigned to work in Ukraine at a temporary basis at their WTO residing employer's subsidiaries in Ukraine) may apply for a work permit valid for up to three years and eligible for renewal lasting two more years. In any case application for extension must be filed at least one month prior to expiration. The overall time of a foreign citizen's employment in Ukraine is unlimited.
A work permit is not required for:
Personnel of representative offices of foreign companies in Ukraine who are employed abroad ( they should be accredited with the Ministry of Economy of Ukraine which is valid for up to three years);
Foreign nationals who obtained a residence permit in Ukraine;
Foreign nationals who are registered as private entrepreneurs in accordance with Ukrainian law;
Foreign nationals employed by the investor within a specific Production-Sharing Agreement (Art. 35 of the Law of Ukraine "On Production-Sharing Agreements" from September,14,1999.);
Foreign nationals who are granted refugee status or those who have applied for refugee status.
The procedure of issuance of a Foreign Work Permit
Work permits are issued by the State Employment Center at the employer's location on the basis of an application with supporting documents. Each local Employment Center creates a special commission for reviewing work permit applications and issuing or refusing work permits (Work Permit Commission).
List of documents required for a foreign work permit application
An application in standard form;
Two 3.5 x 4.5 cm color photographs;
Substantiation of the necessity to hire a foreigner and the possibility to create for such person the corresponding conditions for residence and work;
The duly executed document (order, extract from minutes, proxy, etc.), which evidences the right of the person submitting the work permit application to represent the employer's interests before the Employment Center;
A certificate from the state tax body evidencing payment by the employer of taxes and duties (mandatory payments);
A certificate from the Employment Center evidencing the absence of debts before the Unemployment Fund;
A receipt evidencing payment of the application consideration fee;
A copy of the draft employment agreement (contract) certified by the employer;
A statement confirming that the workplace or position for which the work permit will be issued does not require Ukrainian citizenship and does not require the granting of access to state secrets. This statement must be affixed with the employer's official seal and signature;
(a) a certificate from the internal affairs body evidencing the absence or existence of convictions of the foreigner, who is present on the territory of Ukraine on the date the work permit is executed ("Ukrainian police clearance certificate"); or (b) a certificate from the authorized body of the country of origin (stay) evidencing that the foreigner, who is located outside of Ukraine on the date the work permit is executed, is not serving a sentence for committing a crime and is not under investigation;
A copy of the charter and certificate of registration of the employer, certified pursuant to the established procedure;
A copy of the documents evidencing the foreigner's education and qualifications;
A copy of the identification page of the foreigner's passport.
A draft employment contract and the Ukrainian police clearance certificate do not need to be submitted with the work permit application in the following cases:
foreign assignee is sent to Ukraine to perform a specific assignment or provide a specific service under a contract between a Ukrainian entity and a non-resident, the employer must submit a copy of the relevant contract along with the work permit application
foreign nationals belong to the category of "internal corporate assignees"
foreign nationals belong to the category of "persons who provide services without a commercial presence in Ukraine"
At the same time, the following additional documents are required in such cases:
The decision of the foreign company to transfer the foreign employee for work in Ukraine;
A copy of the contract of the foreign employee with the foreign company regarding work transfer to Ukraine with an indication of the term of work in Ukraine;
A copy of the contract on the direct provision of services in Ukraine (for a foreigner, who belongs to the category of "persons who provide services without commercial presence in Ukraine").
Note: All documents issued in a foreign country in its official language must be translated into Ukrainian, certified by a notary, and either certified by Apostille or legalized with the Ukrainian consulate in the country of origin. As Ukraine is a signatory to the 1961 Hague Convention Abolishing the Requirement of Legalization for Foreign Public Documents, Apostille stamps from most countries are accepted with the glaring exception of Germany, where the more cumbersome procedure of legalization with the Ukrainian consulate is required. Accordingly, if the issuing country is not a member of the 1961 Hague Convention, then legalization is applicable, unless otherwise provided by another international treaty. The term of consideration by labour authorities an application for a work permit – is 30 days from the date of submission of the entire packet of documents in good order.
Possible reasons for foreign work permit refusal
the documents submitted in the work permit application contain information which conflicts with the requirements of legislation and international agreements of Ukraine;
the work conditions for the foreigner under the labor agreement (contract) provide for work conditions which are worse than those for Ukrainian citizens, who work in analogous work, including salary conditions;
the employer intends to hire a foreigner for work which requires Ukrainian citizenship or the granting of access to state secrets;
intentionally false information or false documents are submitted;
the foreigner is subject to deportation from Ukraine;
less than one year has passed since the date of the previous refusal to issue an IM-1 visa to the foreigner or the annulment of a prior permission;
the employer has a debt before the Unemployment Fund;
the foreigner is serving a prison sentence for committing a crime or is under investigation on the date the work permit is executed;
the employer violated the term for the submission of documents to extend the validity term of a work permit;
Visa and Temporary Residency Certificate…
After reaching positive decision the Employment Center sends copies of all issued work permits to the Ukrainian consulate at the place of permanent residence of the recipients for purposes of executing IM-1 visas to such recipients. Upon receipt of a work permit, a foreigners applies for work visas or IM-1 visas, which are single entry visas requiring registration with the local immigration authorities or "UGIRFO", formerly "OVIR" (temporary residency certificates). It should be noted, foreigners who intend to work in Ukraine on the basis of a work permit more possible are able to apply for visas only in their home countries rather than at any Ukrainian consulate abroad. It is also very important to know that The Employment Center is aware visa denials by Ukrainian consulates abroad and, more specifically, refusals to issue the coveted IM-1 visas. Thus, all visa and work permit applications must be prepared with extreme care and submitted in time to avoid refusals. Otherwise, a foreigner will have to wait one year from the date of a visa or work permit refusal to re-apply.
To apply for IM-1 visa foreign national besides filling in a standard visa application will need to provide the following:
Original work permit certificate plus copy (un-notarized is fine)
3 x 4 cm photography
Passport original plus copy of main page (un-notarized is fine)
Letter from employer on official letterhead stating that you've been accepted for work.
Upon succeeding in obtaining the work permit and IM-1 visa, foreign employees of Ukrainian companies have to register with UGIRFO within 90 days of their entrance in order to receive a temporary residency certificate. A temporary residency certificate will allow a foreigner to exit and enter the country for the duration of the work permit without having a multiple entry visa.